TRACTOR – MUSICTHEATER & poetic people
august 22 @ 19:30

-

20:30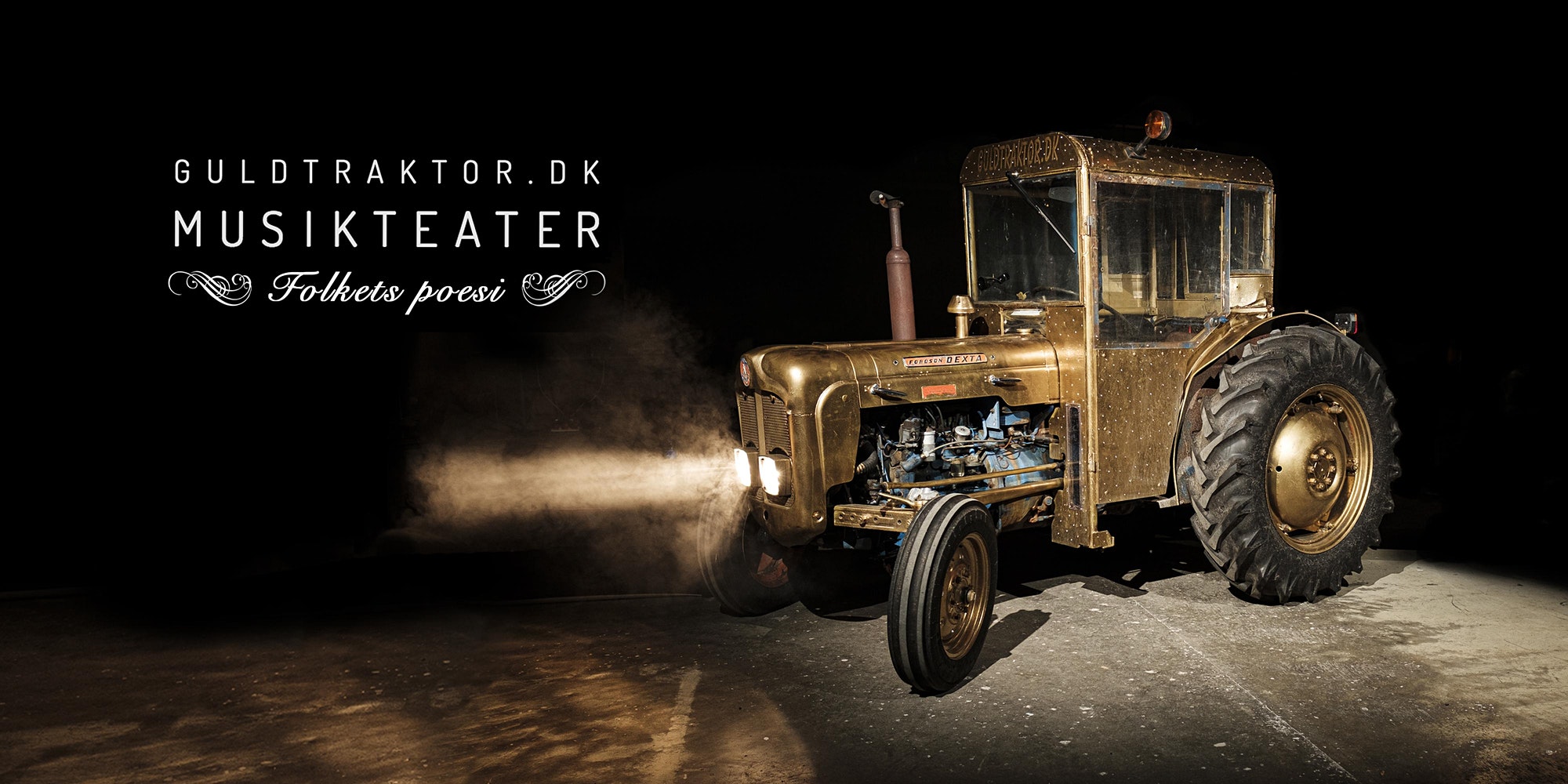 *** GULDTRAKTOR ** MUSIKTEATER ** NYCIRKUS ** FOLKETS POESI ***
A TRACTOR decorated with gold and diamond beads captures the sun's rays and raises a rainbow of magical realism as it trudges through the landscape and digs the people's own poetry out of the fat soil.
For a whole year, the artist Tine Louise Kortermand has driven across Funen in a gold tractor and collected stories from people she has met on her way. The stories have been redesigned for musical theatre and new circus of the highest quality …
Rejoice when Swedish trapeze duo Mira Leonard and Esmeralda Nikolajeff, the Danish-Norwegian cellist Live Johansson, the equilibristic accordionist and electron musician Nicolai Kornerup, as well as the Funen singer, video, sound and performance artist Tine Louise Kortermand add theatrical magic to the touching and scary stories that the gold tractor has 'harvested' out in real life.
IN THE DARK, YOU meet THE PEOPLE'S POETRY
It's going to be an unusual musical performance: wonderful songs, catchy melodies and small wonderful stories from everyday life. It's Nordic darkness, grotesque trolls, bright space elf and sawn-off ladies that singalong your mind. It is trapeze artists who swing high under the ceiling and create poetic shadow games. It's fiction built on your own stories. It doesn't look like anything you've seen before.
ADMISSION IS FREE
But hurry up to book your tickets – In case of illness, please cancel so that others can have the opportunity.
The performance is for the age group: 10-100 years (The performance is based on the audience moving around the set. Therefore, you need to be well walking and prepared for surprises along the way).
Remember!
Bring your own charged mobile phone or flashlight as it will be used during the performance as well as a pair of futter or beautiful & clean indoor shoes that you can switch to.
PRODUCED BY NORDIC PERFORMANCE ART with support from:
Statens Kunstfonds Musikdramatiske Udvalg
Statens Kunstfond, Scenekunst – Internationale aktiviteter
Nordisk Kulturfond
Augustinus Fonden
Statens Kunstfonds Projektstøtteudvalg for Billedkunst
Dansk Komponistforening, Koda Kultur
A.P. Møller og Hustru Chastine Mc-Kinney Møllers Fond
Faaborg-Midtfyn Kommune
Det Obelske Familiefond
Statens Kunstfonds Huskunstnerordning
Nordea-fonden
H.C. Andersen Festivals
Odense Kommune Kultur/Åben skole
Dynamo – Workspace for circus & performing arts
Nordisk samarbejde imellem:
A! Performance Festival (IS), Riga Performance Festival (LV) og Nordic Performance Art (DK)